As a site host, you can review a permit in the 1Breadcrumb mobile app. You can view any permit requests that are pending, or ones already approved.
Note: Once a worker has submitted a Permit to Work, you can choose to receive notifications via the mobile app. Please click on the bell icon on your Host Panel (Top Right-hand corner).
Step 1 - Go to the Host Panel at the bottom right of the 1Breadcrumb Home screen.
Step 2 - Click on the Permits button to open up the permits section.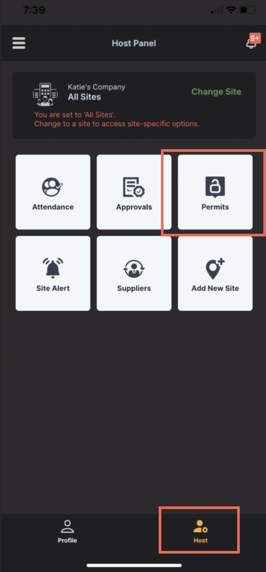 Step 3 - Ensure you are on the correct Site/Project. Click on 'Change Site' to select the correct site.
Step 4 - The default will be set for all approved permits. Please select 'Pending Approval' to review any pending permits. Then click on the 'i' to open up the content of submitted Permit to Work.
Step 5 - Once you have reviewed the content, click on the Review button to Approve or Reject this Permit to Work. You can also adjust the dates of the permit before approving.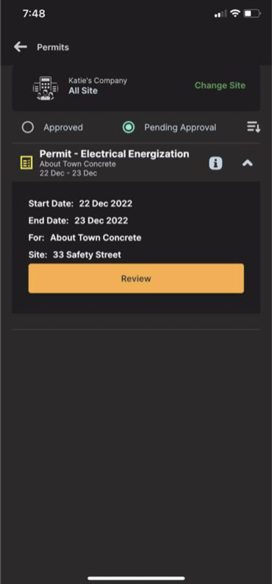 .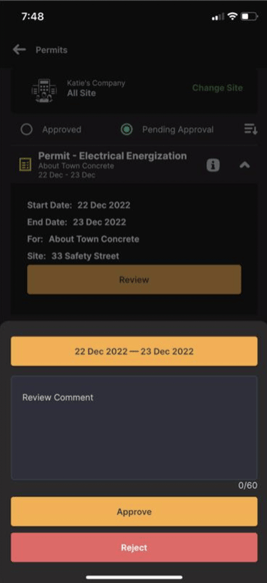 Step 6 - After a permit has been approved, it is not yet open for usage. The Permit can now be opened by a site supervisor/host or by the worker themselves (when work is to commence). Once the work has been finished, the worker can then Place the Permit On Hold.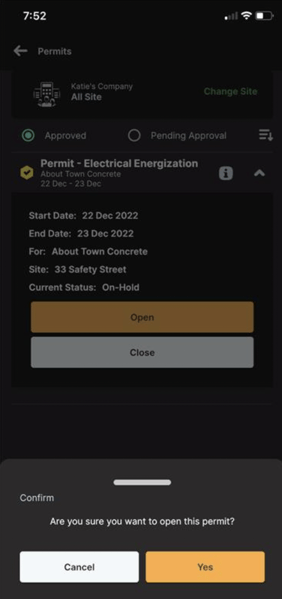 Step 7 - Once the Permit has been placed On Hold, you may need to answer additional close out questions before closing this permit. Closing the permit indicates that the work has been completed and approved by you/other Site supervisors.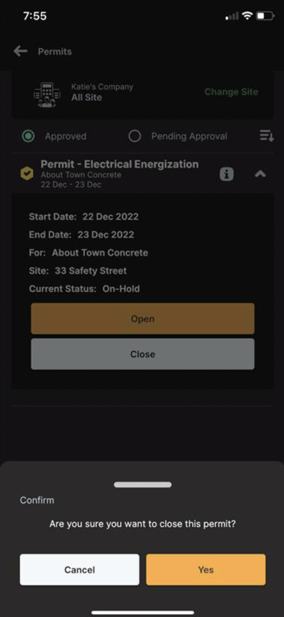 Extra notes:
Permit Stages:
1) Open - Open the permit to indicate work has commenced
2) On- Hold - Put the permit On hold once work has finished or you may need to temporarily pause the permit.
3) Close - Close the permit once work has been completed and work area is cleared/cleaned.
Permit Open/ On-Hold/ Close out Forms: You can create and attach forms if you need to include any follow up questions to verify that all the Jobs were safely monitored or done at any permit stage.