This article will discuss the difference between Site Alerts and Site Announcements on the App.
Both of these tools can be found on the

page at the bottom right of your app as seen below.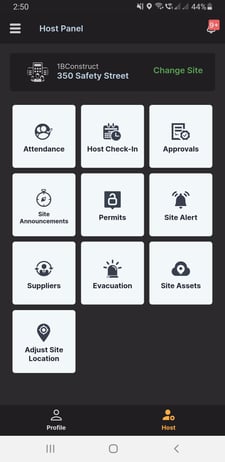 Site Alert
This tool is an easy way to get a simple message to every active user onsite through either an SMS or Push Notification. We tend to only use SMS as most people have notifications disabled for most of their downloaded apps.
To do this, open the Site Alert tile and input the desired message to send to all users currently checked in.
You have the option of sending to a specific site or all sites by selecting from the drop-down menu at the top.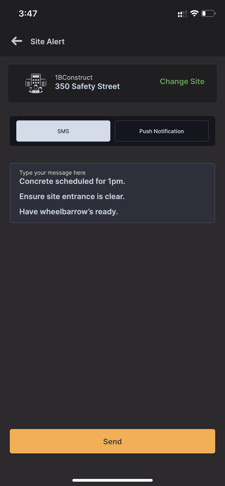 Site Announcements
This tool is for making much more specific announcements that you can target to Specific user types and monitor if they have been viewed or not.
Announcements are commonly used for communicating information through inductions or sites
such as emergency evacuation plans, toolbox talks, pre-starts, or to display company policies.
You can upload PDFs, video/audio files, images, or links as an announcement.
The key difference between this tool and Site Alerts lies within the Host's ability to monitor who has seen the content sent out, as well as the complexity of the announcement itself.