The live attendance feature gives the site hosts the ability to view a snapshot of everyone on site, the inductions completed, their emergency information (if collected), and the ability to call workers directly.
Step 1 - On the left sidebar, go to Reports and then Live Attendance.
The default screen will show real time attendance of who is currently on site.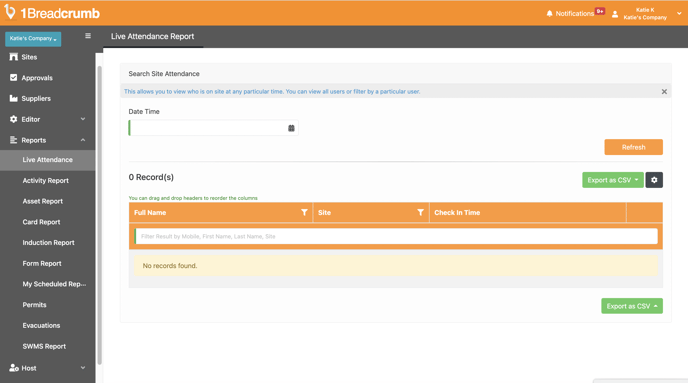 Step 2 - Filter by:
Select Site - Select and choose a specific site by clicking on the filter icon of this column.
Select Date Time - Click Now for real-time data or select a specific date and/or time to see data for that given period.
Select User - Leave the Select User empty if you want to see all users, or you can search for a specific user's name.
Step 3 - You can also view the user's information by selecting Details. This includes check in answers, inductions and any documents uploaded/viewed by this individual.

You may also export this information as a report in an excel file by clicking Export as CSV.