A supplier form is requested at the company level when onboarding subcontractors and does not require the site worker to sign off on it. These forms can have expiry dates attached to set reminders when the document has expired.
Please note: This feature is separate from SWMS requesting, and is requested at the company level- NOT at the project level.
Step 1 - Create Supplier forms
To understand how to create a form, please visit this article.
Typical examples of forms you would create and request from a sub-contractor are:
Public Liability Certificate of Currency
Workers' Compensation Insurance
Sub-contractor accounts information
Step 2 -
On the left sidebar, click the Suppliers tab.
Then select the Forms button alongside the specified supplier.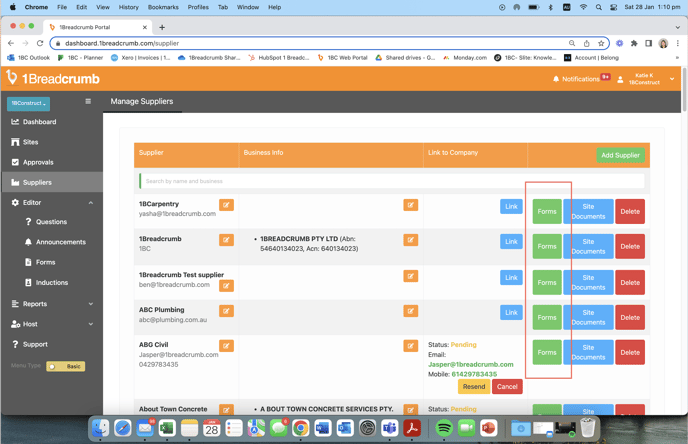 Step 3 -
Click + New.
A window will appear to specify the type of supplier form you are adding. Select the desired
supplier form and click Add.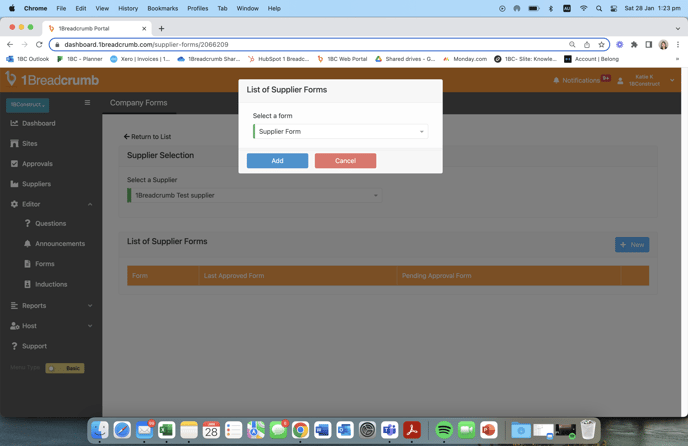 Step 4 -
After the form has been added, select Request form completion by Email.
In the window that appears, you can edit the email or subject if required, then click Send Email
(You can also change this email template for all suppliers in Company Settings > Suppliers >
Supplier Document Configuration).
Supplier's End -
The supplier will receive an email with a link to complete the below form. After it has been submitted by your supplier, anyone with host permissions will be able to go into the Form Report or Approvals tab to approve/reject the documents.