You can create an announcement through your mobile app as long as you have the files (PDF, Image, Audio, Video), or external links handy on your device.
Step 1:
Go to your 1Breadcrumb mobile app at the host menu

and ensure you have the right site selected. You can do this by using Change Site at the top right.
Step 2:
Tap the Site Announcements tile on the left side.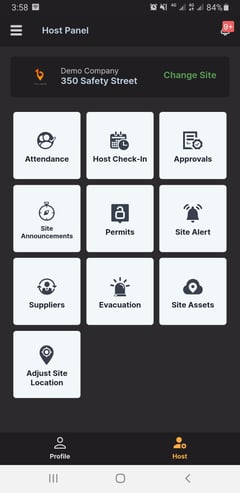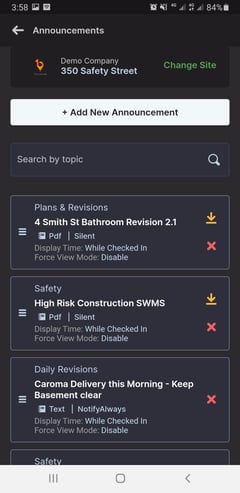 Step 3:
This will take you to the Announcements Page where you can see all other announcements on the site.
Tap the + Add New Announcement button.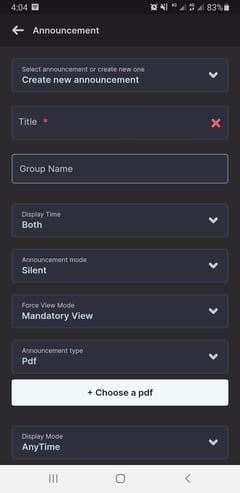 Step 4:
Here you can create your own announcement by filling in the details:
a. Create New Announcement. If you wish to create a new announcement, leave this as is but if you have an existing announcement that is not on this site yet, you can tap this option and look for the Title of the announcement.
b. Title. The title of your announcement. (Recommend format for reporting Name of Document - Name of Site)
c. Group Name. This is optional however if you wish to categorize your announcement, you can put what category this announcement belongs to.
d. Display Time. Recommend setting to both so prompts users on their first check in but can always access the document while checked in.
e. Announcement Mode. You may choose if you wish to Notify the users Always, Notify Once, or Silent.
e. Announcement Type. The type of the announcement; PDF, Video, Text, Audio, Youtube Video, Image, and External Link. You will also need to upload the files necessary or type in the text or links. - Recommended as PDF is appropriate
f. Active Date Range. The expiration of the announcement. If left on valid forever it will be live until you decide to remove it, on Time-Limited you can set it to expire after a certain date
g. Active Announcement. Here you can tick it to be active or not.
Once you're done, tap Submit.