A new Form will need to be created in order to create a permit. Make sure that you already added your questions or information in the Questions Repository before you are able to add to the Form.
To add questions and information to the Questions Repository, please see the article "How to create a Question?"
To create a new Form, please see the article "How to create a Form?".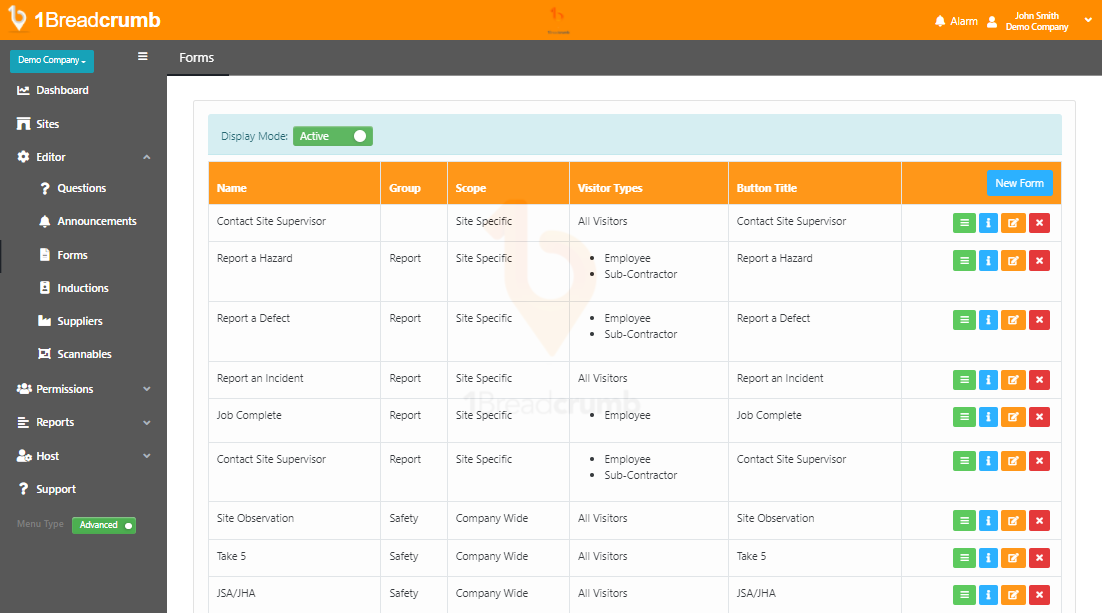 Step 1:
For New Permit, make sure that you have the correct settings.
1.1. Name. The name for your Permit.
1.2. Button Title. The title shown in the app. This can be the same as the name.
1.3. Type. Make sure this is set as Permit. (See below screenshot)
1.4. Apply For. If this permit is for Anyone, for a certain Individual, or a Supplier.
1.5. Is Active. If the form is ready to be added to a site or is ready to be used.
1.6. Permit Open Form.
1.7. Permit On-Hold Form.
1.8. Permit Close Form. If you want to close or end the permit; this allows you to create follow-up questions to verify that all the Jobs were safely monitored or done.
To Create a Permit Close Form. Click on "How to create a form?" Choose Generic and Site-specific.
1.9. Can Set Schedule.
1.10. Can Request Exclusive Access.
1.11. Form Group. If you wish for your Forms to be categorized/grouped with other forms.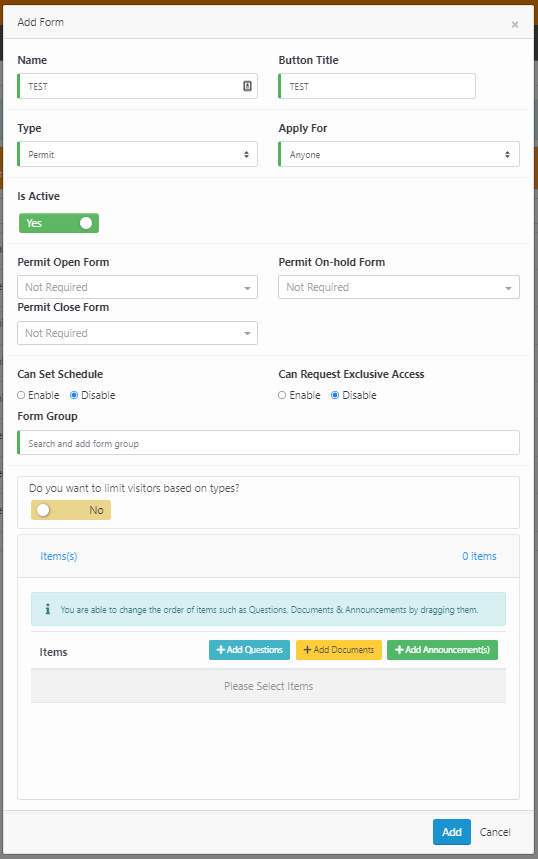 1.12. Do you want to limit visitors based on types? If Yes, toggle the button and it will show you the visitor types you created.

If there is no visitor type yet. Please refer to "How to create Visitor Types?".

Step 2:
2.1. Add in the Questions

, Documents
, or Announcements

for your form.
2.2. Questions. The questions that you have added to the questions repository for your Permit.
2.3. Documents. If you require licences or certificates to be uploaded in line with the Permit.
2.4. Announcements. If you have an announcement in PDF, Image, Audio, Video, etc. that you wish to add to your Permit.
2.5. Once you're done, click

.